Gifts for an Ailing Friend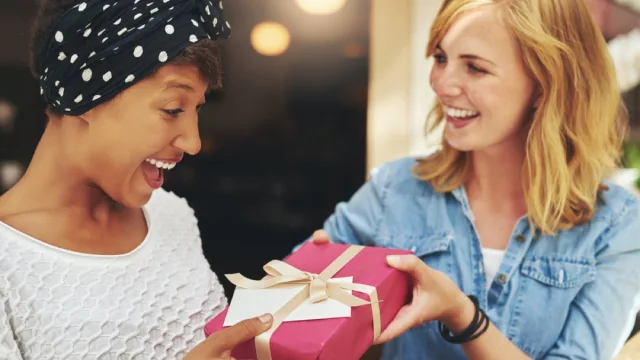 Whether your friend is recovering from a recent surgery, battling an illness or just feeling under the weather, let her know you're thinking of her with an act of kindness that will illustrate how much you care. Consider a gift that will make her life easier or simply bring a smile to her face.
Sweet Treats
When your friend is tired of receiving flowers, change it up by presenting her with a get well cookie bouquet or an arrangement of her favorite snacks such as candy and fresh fruit. The colorful presentation can sit on her dining room table or nightstand where it will brighten her day and enable her to reach for a treat whenever she gets hungry.
Simple Diversions
If your friend is dealing with chronic illness, try to ease the burden a little with an assortment of activities that can temporarily take her mind off of her troubles. Consider filling a colorful tote bag with bestselling novels, crossword puzzles, adult coloring books and colored pencils, a bead bracelet making kit or a leather-bound journal that she can use to record her thoughts. She can bring the items from room to room or to doctor's appointments to stay occupied during the long wait times.
Comfort Care Package
A friend who's feeling out of sorts might appreciate a collection of goodies that will help her relax and destress. Compile some teas and a beautiful mug, candles, bath salts and oils, a soothing compact disc and a loofah sponge. Top the gift off with a plush blanket, warm socks, flannel pajamas and a luxurious bathrobe that she can wear after a hot bath.
Although it doesn't have to be elaborate, a gift for a friend who hasn't been feeling her best can mean a lot. It not only offers well wishes for a speedy recovery, but also demonstrates that you're someone she can count on in her time of need.